As a public institution, we provide exceptional care to all Californians. And, we actively seek ways to expand our reach to those who need it most by improving access to health care.  
Each year, University of California Health (UCH) hospitals have thousands of inpatient admissions and millions of outpatient visits. Approximately 70 percent of those patients have Medicare, Medi-Cal or do not have health insurance.  
Across UCH in our fiscal year 2019-2020, 35.5 percent of inpatient days (days where patients were in the hospital) were associated with Medi-Cal, 34.1 percent with Medicare and 29.6 percent with private market payers. The remaining 0.7 percent lacked any form of insurance or paid out of pocket (self-pay).  
Did You Know?
UCH is one of the largest providers of care to Medi-Cal enrollees, despite representing less than 6 percent of the 74,180 non-federal, short-term, acute care hospital beds in California. UCH is the third-largest provider of inpatient services and the fourth-largest provider of hospital-based outpatient services in California.  
| FY 2019 UCH Medi-Cal Hospital Encounters |   |
| --- | --- |
| Inpatient Discharges | 55,672 |
| Outpatient Visits | 778,703 |
| Total Encounters | 834,375 |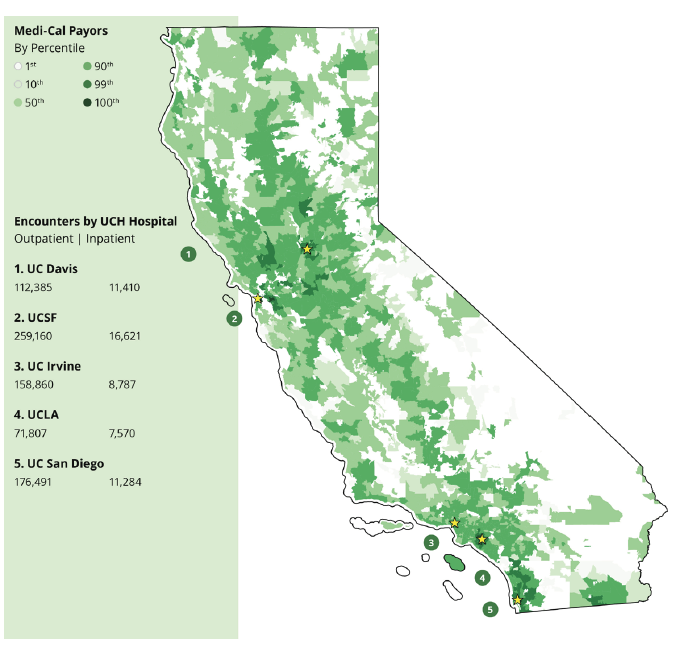 Reimbursement Differs Across Payors  
University of California Health academic health centers are almost entirely self-supporting, relying on reimbursements from governmental and commercial payors. The majority of revenue comes from patients with contracted health insurance.  
According to our most recent Economic Impact report, patients on Medicare and Medi-Cal contribute 21 percent ($2.6 billion) and 17 percent ($2.1 billion) of UCH hospital revenue, respectively. However, these patients represent 70 percent of the population served by UCH hospitals and clinics. Costs associated with Medicare and Medi-Cal patients are not fully covered. It is estimated that Medi-Cal reimbursement covers between 50 to 60 percent of the cost of services per patient.  
In 2018-19, UCH had a total net loss of approximately $1.7 billion in caring for government payor and uninsured inpatients and outpatients. Statewide, the economic fallout of the pandemic has driven a 6.8 percent increase in Medi-Cal enrollment from 12,601,715 in January 2020 to 13,460,587 in January 2021 — which will likely contribute to greater future financial loss.   
Providing Accessible Health Education and Training Across California 
All UCH health professional education emphasizes public service and caring for communities that have traditionally faced barriers to care or inadequate public health resources. But that's not enough. We have opened new UC schools and programs in areas where additional health care is needed. And, our UC PRIME model of training equips the next generation of physicians for leadership and advocacy for groups who do not regularly have access to quality care. 
Explore how UCH is improving diversity, equity and inclusion across the health sciences. 
World-Class Care Regardless of Ability to Pay 
The University of California's academic health centers provided $1.4 billion in net community benefit in FY 2018-2019 reporting period, the most recently completed fiscal year. The largest share of that 1.4 billion — $920 million — was costs that were not reimbursed for treating Medi-Cal patients. UCH hospitals community benefit expenses also included $2.8 million in costs for Medicare that were not reimbursed. 
Learn more about the community benefit UCH provides to Californians.