University of California Health (UCH) comprises six academic health centers, 20 health professional schools, a Global Health Institute and systemwide services that improve the health of patients and the University's students, faculty and employees. All of UC's hospitals are ranked among the best in California and its medical schools and health professional schools are nationally ranked in their respective areas.
The leadership of UCH works collaboratively to accelerate the pace of research, improve patient care, improve access to health education and training and ensure that University community members have quality health benefits. Inherent within this collaborative approach is an acknowledgement that local leadership must remain able to respond to the differing needs of communities, employees, faculty and students at each location.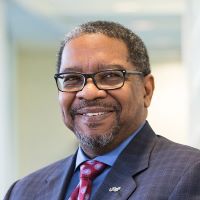 Talmadge E. King, Jr., M.D.
Interim Executive Vice President
University of California Health
The UCH system office resides within the University of California Office of the President. Interim Executive Vice President Talmadge E. King, Jr., M.D., leads the health system with a leadership team that facilitates activities across the health enterprise, provides a long-term strategic framework and acts as a catalyst for change to ensure the nation's largest public academic health system remains at the forefront of clinical, educational and research excellence. UC Health system leadership reports to University of California President Michael V. Drake, M.D.
Each academic health center and health professional school has leadership teams with principal responsibilities for their locations and work collaborative with campus leadership, reporting to each campus' chancellor.
View Leadership at UCH System Office
School of Veterinary Medicine