From the earliest days of the COVID-19 outbreak, University of California Health (UCH) has been on the front lines — of research, patient care, clinical trials, education and supporting the State of California's public health response.
COVID-19 Response Snapshot
Rapidly developing in-house testing for SARS-CoV-2 when external testing was not readily available
Expanding the capacity of our hospitals by 40 percent to take care of surges of patients
Treating more than 8,200 people hospitalized with COVID-19 across the UCH system through April 2021
Initiating hundreds of research projects and clinical trials focused on COVID-19
Performing well over a million tests, with 580,000 for UCH patients through April 2021, and many more for public health agencies, nursing homes, first responders and other hospitals
Actively participating in all vaccine clinical trials in the U.S.
Vaccinating our communities — being mindful of health inequalities — to reach the most vulnerable and underserved people as quickly as possible and reaching more than a million doses by late April 2021
Get a behind-the-scenes look at how UCH, one of the nation's largest academic health systems, has been responding to the COVID-19 pandemic in this article.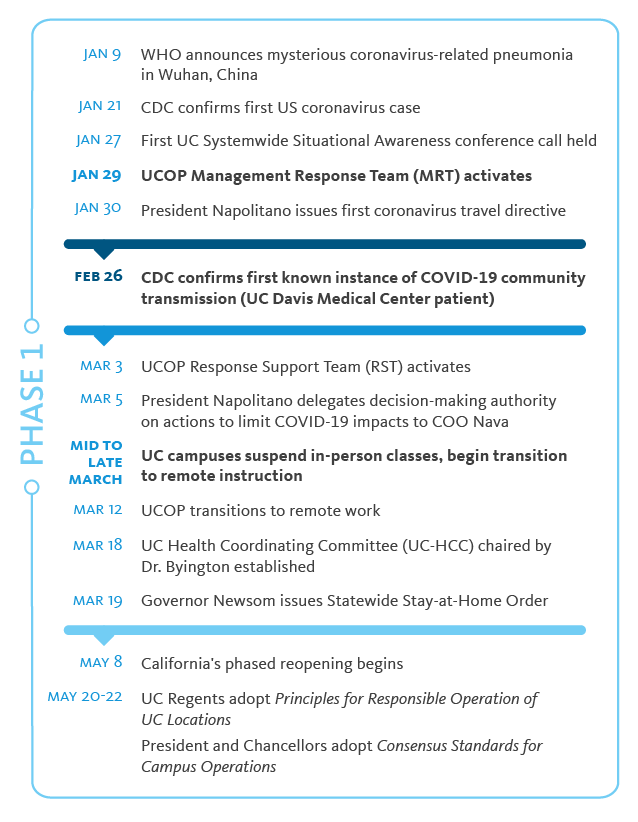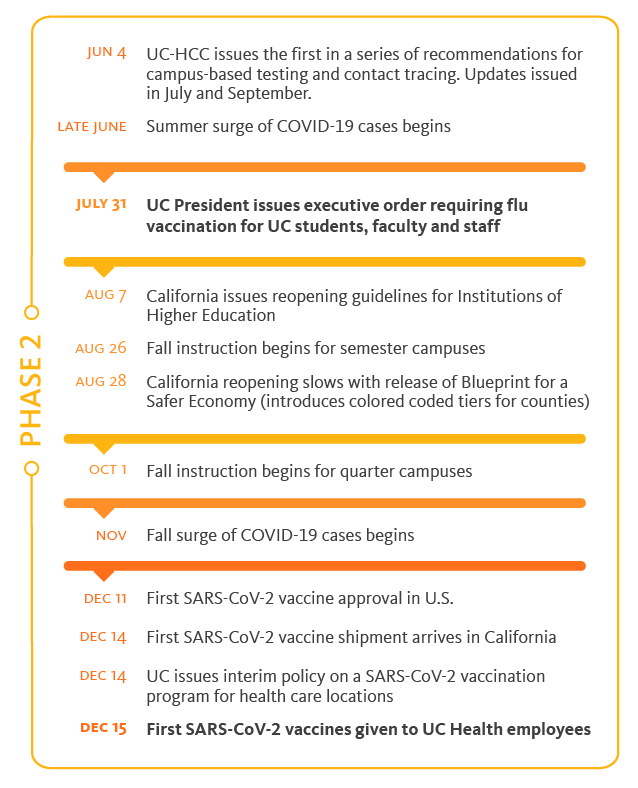 Highlights of UC's response to the COVID-19 pandemic
COVID-19 Data Dashboards
Throughout the pandemic, University of California teams have been transparent by sharing publicly posted dashboards that show the impact of COVID-19. These dashboards showed test positivity rates by location, the number of hospitalized patients, and ICU, ventilator and ECMO use by patients with COVID-19.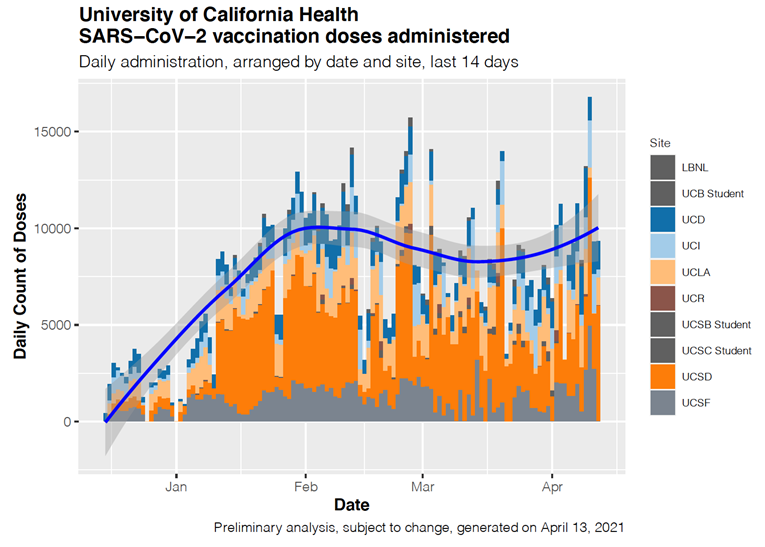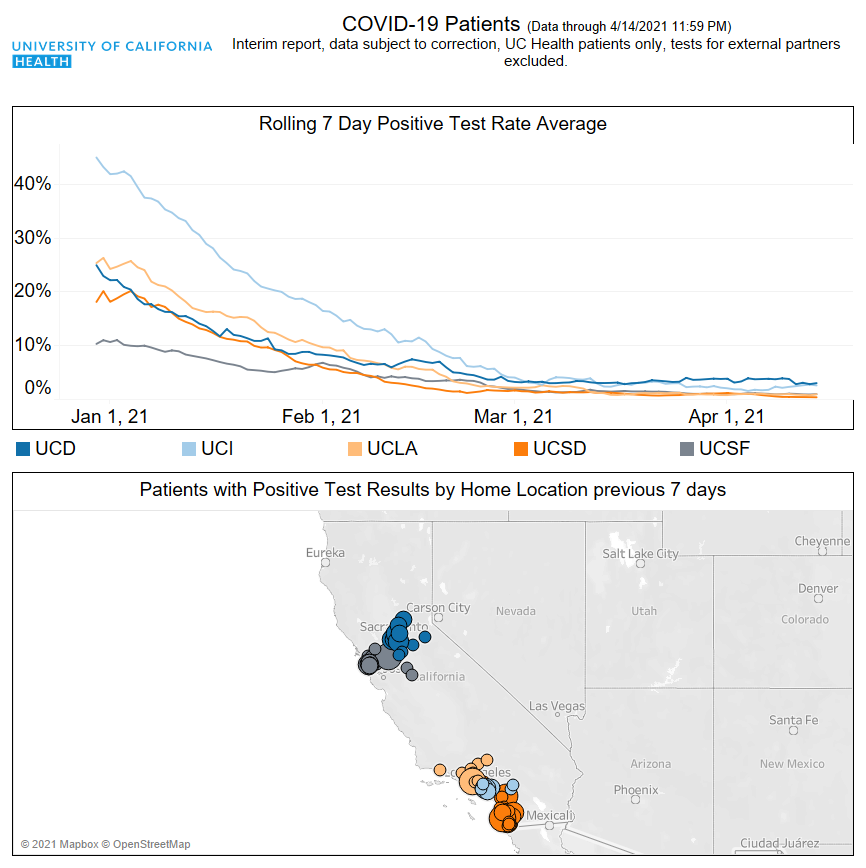 This transparent approach enabled the public to see the impact of COVID-19 rather than solely rely on representations of the pandemic. This exchange of COVID knowledge and data has fueled our overall response throughout the pandemic.
UCH COVID-19 Response Timeline
Translating Research Into Improved Patient Care
UC researchers helped lead the global race to rid the world of COVID-19. In 2020, they launched 85 high-priority, rapid-response coronavirus research studies investigating:
Diagnostics
Vaccines
Therapeutics
Clinical management of COVID-19
COVID-19's disproportionate impact on specific racial and ethnic communities
COVID-19's disproportionate impact on people with specific health conditions
Since then, they have continued to launch new research projects, many of them cross-campus collaborations. The Coronavirus Assembly Research Consortium, for example, began in 2021. The consortium is a collaboration between experts in biophysics, computer science and medicine from UC Davis, UC Merced and UC Riverside.
These researchers will conduct experiments and computer simulations that have never before been performed on the virus that causes COVID-19. Their goal is to create knowledge that will propel the development of therapies that slow or destroy the virus.
Economic Impact of COVID-19
Throughout the pandemic, UCH has continued to serve its communities, including people in need, regardless of their ability to pay for care.The pandemic has strained UCH with more than $1.7 billion in lost revenue and new costs associated with COVID-19. Yet, UCH ;has remained a stable resource for our patients, employees, students and the State in this fight against COVID-19.
University of California Health continues to be at the forefront of California's COVID-19 care delivery, public health response, testing, treatment and research.
Current COVID-19 Information