February 9, 2022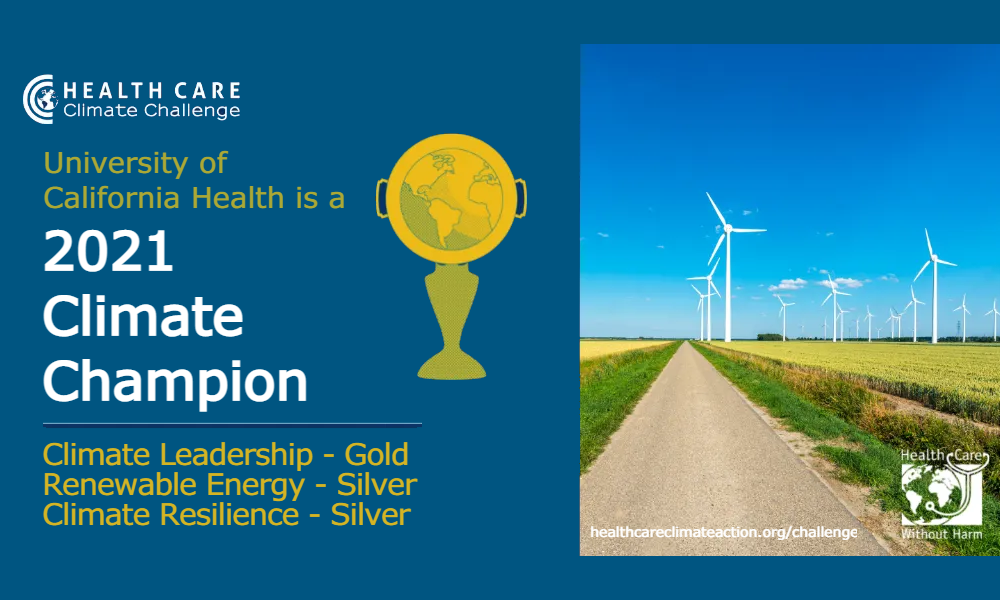 University of California Health has been named a 2021 Climate Champion as part of Health Care Without Harm's Health Care Climate Challenge. The recognition is based on combined accomplishments across the system's academic health centers in overall leadership, renewable energy and climate resilience.
The Health Care Climate Challenge is a global program that involves more than 330 institutional participants, representing the interests of more than 28,000 hospitals and health centers in 40 countries. Participating organizations commit to reducing health care's carbon footprint, preparing for the impacts of extreme weather and the shifting burden of disease, and educating staff and the public while promoting policies to protect public health from climate change.
"As a health system, we have dual responsibilities related to the environment. We must continue taking action to reduce our own impact on the planet and working to address the very real health effects of climate change," said Carrie L. Byington, M.D., executive vice president of University of California Health. "Our efforts to date toward our sustainability commitments have delivered progress, and we will keep moving forward to protect the health of our communities, environment and planet." 
To ensure transparency and accountability, University of California publishes the UC Annual Report on Sustainability, which includes metrics and information about programs at its academic health centers.
About the Health Care Climate Challenge
As part of the challenge program, University of California Health earned a gold award for climate leadership and silver awards for renewable energy and climate resilience. To evaluate participants' performance, Health Care Without Harm reviews data on progress and activities at each institution to examine items such as number of actions completed and percentage of energy from renewable sources.
About University of California Health
University of California Health comprises six academic health centers, 20 health professional schools, a Global Health Institute and systemwide services that improve the health of patients and the University's students, faculty and employees. All of UC's hospitals are ranked among the best in California and its medical schools and health professional schools are nationally ranked in their respective areas..