June 25, 2021
University of California Health's (UCH) academic health centers and faculty practices delivered nearly $3.9 billion in community benefits during the 2019-2020 fiscal year. This figure includes a 25 percent increase in benefits from UCH academic health centers from the previous year as they served their communities during the COVID-19 pandemic – delivering care and supporting public health actions to protect people across the State.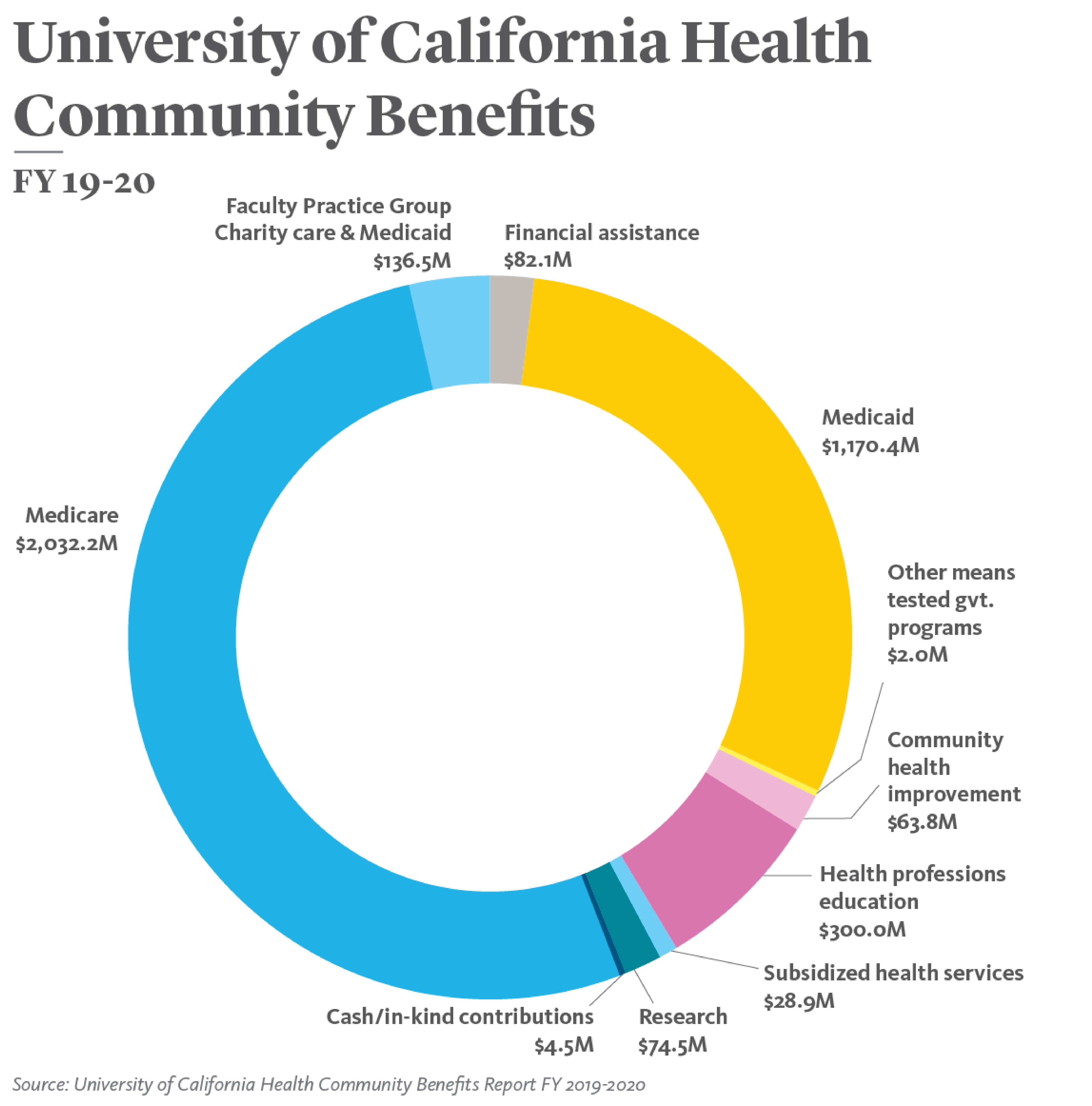 The net community benefits from five UCH academic health centers, excluding Medicare related items, equates to 10.7 percent of their operating expenses.* This level of community benefit spending puts the UCH academic health center system in the top 40 percent of the 26 health care organizations nationally benchmarked for the report. UCH's community benefit report is published annually to provide transparency about activities throughout the UCH system.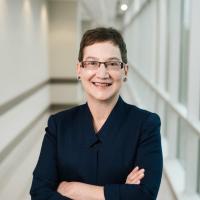 "This crisis has shown how much work remains to eliminate health disparities. The work by our health professionals on these community programs continues to be a critical way of advancing health equity in California."
"The past year has tested health care systems across the country. I'm incredibly proud of our clinicians, faculty and staff who all stood together with our communities to fight the pandemic and its disproportionate impact on groups who were suffering from health disparities before the pandemic," said Dr. Carrie L. Byington, executive vice president of University of California Health. "This crisis has shown how much work remains to eliminate health disparities. The work by our health professionals on these community programs continues to be a critical way of advancing health equity in California."
Community benefits are programs or activities that provide treatment or promote health and healing as a response to identified community needs. Community programs across UCH are developed with input gathered from Community Health Needs Assessments (CHNAs) that are completed every three years to guide health organizations in acting upon unmet needs. 
Examples of community benefits include free or discounted health services, unreimbursed costs for care to Medi-Cal recipients, health professions education, subsidized health services, research, and financial or in-kind support for non-profit community organizations. These efforts advance UCH's mission of patient care, research and education.
Programs at UC academic health centers focus on: 
Providing vital support to improve population health and achieve strategic objectives related to the quality, efficiency, and affordability of healthcare;
Highlighting the significant resources devoted to providing access to care for low-income and other underserved patient populations; and
Helping to advance knowledge through health professions education and research that benefits the public. 
Examples of these programs from the UCH system and each academic medical center include:
UCH system's COVID-19 response during the year included implementing surge plans that increased capacity by nearly 40 percent and treated more than 37,000 COVID-19 positive patients. Across the enterprise, researchers initiated hundreds of projects and clinical trials focused on COVID-19. UCH labs developed new diagnostic technology, including SwabSeg at UCLA Health, which received FDA emergency use authorization and CRISPR testing at UCSF in collaboration with Mammoth BioSciences, as well as potential new therapeutics such as AeroNabs at UCSF. Learn more about UCH's COVID-19 response in this article. By the end of February 2021, UCH had performed more than 592,000 tests for its patients and hundreds of thousands more for public health agencies, nursing homes, first responders and other hospitals. That number has since grown to more than 635,000 tests as of June 22, 2021. UCH participation in clinical trials helped lead to emergency use authorization of vaccines.
UC Davis Health's Sacramento Physicians' Initiative to Reach Out, Innovate and Teach (SPIRIT), which is a collaborative partnership between the Sierra Sacramento Valley Medical Society (SSVMS) and area health systems. SPIRIT coordinates recruiting and placing physician volunteers to provide free medical services to the region's uninsured; specialty consults and surgical services for uninsured individuals at local hospitals and ambulatory surgery centers; and free colonoscopies to SPIRIT patients. UC Davis has been providing funding and support for more than a decade.
UC San Diego Health Sciences Homeless and Unsheltered COVID-19 Partnership is a program with Molecular Microbiology Laboratory in the Center for Advanced Laboratory Medicine (CALM) at UC San Diego Health and Father Joe's Villages that provided testing for the virus that causes COVID-19. Nasal swabbing tests were administered every two weeks in small groups at the San Diego Convention Center from March to June 2020. Residents in the Department of Family Medicine and Public Health at UC San Diego have worked with Father Joe's Villages since 1997, practicing both family medicine and psychiatry, simultaneously addressing clients' physical and mental health.
UCI Health's Family Health Center delivers care to the underserved community in Santa Ana, Anaheim and surrounding areas. The center had approximately 90,000 patient visits, an increase of 8,000 visits from the prior year. Services included COVID-19 response such as virtual care, virtual dentistry, refills by mail, Spanish language materials and patient home monitoring. The center earned an award for Health Disparities Reduction from the U.S. Health Resources & Services Administration and has been a Federal Qualified Health Center for more than 20 years with locations in Santa Ana and Anaheim. Through the center, UCI medical residents have an opportunity to practice in their chosen field.
UCLA Health's Office of Community was created in 2018 to unify community engagement and health and wellness activities by leveraging shared resources and partnerships. Approximately 1,000 underinsured and underserved Angelenos received free medical, dental, vision and preventive care in FY2020. Additionally, the Office of Community arranged free dental screenings and cleanings and other health resources at many Dodgers events. Actions have also included COVID-safe drive-thru giveaways and food distribution events.
UCR Health's Center for Healthy Communities Mini-Grant Program engages medical students, graduate students, residents and fellows of UCR in service and advocacy projects within the Inland Empire communities. Among the goals of the mini-grants are encouraging the UCR community in service-driven projects for the underserved, improving access to medical care and resources for at-risk populations, and providing direct funding for initiatives that address social and political issues negatively affecting the health of community members.
UCSF's Community Health and Adolescent Mentoring Program for Success (CHAMPS) is a 3-year health training internship, helping high school students of racial and ethnic minority populations explore health care professions. The program partners with local high schools, health academies, universities, medical schools, and residency programs as part of a health professions pipeline. Around 100 students are enrolled in CHAMPS annually and participate in mentored field placement, SAT and college prep, peer education, and psychosocial activities. In 2020, CHAMPS graduated 30 scholars. The class of 2020 received more than $450,000 of financial support.
UCSF Benioff Children's Hospital Oakland's Center of Excellence for Immigrant Child Health & Wellbeing addresses the needs of immigrant children and families. The center provides clinical services, education for providers and families and mental health training. Also, the team engages in advocacy efforts to promote best practices, community collective action, policy recommendations and analysis, and connections to community resources.
UC also has 20 health professional schools which provide many substantive benefits to communities throughout the state and beyond. In the future, UCH plans to include data regarding the community benefits provided through the health professional schools in the annual community benefits report. 
University of California Health's community benefit report follows guidelines published by the Internal Revenue Service for tax-exempt, non-profit academic medical centers. The standardized reporting enables transparency about the community benefits being delivered and facilitates comparisons to benchmarks for other tax-exempt, non-profit academic medical centers. UC's academic health centers are not required to file reports related to the community benefits annually with the IRS.
About University of California Health
University of California Health (UCH) comprises six academic health centers, 20 health professional schools, a Global Health Institute and systemwide services that improve the health of patients and the University's students, faculty and employees. All of UC's hospitals are ranked among the best in California and its medical schools and health professional schools are nationally ranked in their respective areas. More information and news from University of California Health is available on its website.
*For UCR Health, only community benefit expenses for the faculty practice group are included in the report.
Learn More About Our Work
We publish a range of reports to update its communities on its work to improve the health of all Californians. More details on community benefits delivered and other aspects of patient care, education and research activities across UCH are available in our reports library.