June 15, 2023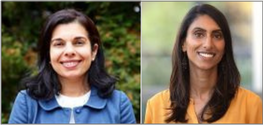 The UC Center for Climate, Health and Equity's Founding Co-Director Arianne Teherani, Ph.D., and Managing Director Sapna Thottathil, Ph.D., are attending the meeting of the subsidiary bodies of the United Nations Framework Convention on Climate Change – the main international organization coordinating climate action – in Bonn, Germany, as part of the UC delegation. They are providing us with their perspectives from the gathering.
June 16, 2023
Controversies and lack of consensus: Final reflections on the Bonn climate negotiations 
We have mixed feelings as we leave the climate negotiations in Bonn.
Global emissions are continuing to rise. Despite the slowdown in economic activity resulting from the COVID-19 pandemic, CO2 emissions have risen almost 5 percent since 2020. (You can view global emissions trends with the interactive Emissions Database for Global Atmospheric Research maintained by the European Commission.)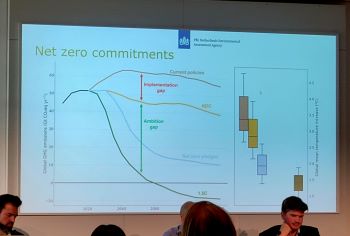 The majority of CO2 emissions are from six entities: China, the U.S., the EU, India, Russia, and Japan. There is a significant gap between current actions by individual countries and the actions needed to achieve the 1.5˚ C limit from the Paris Agreement. 
Throughout the Bonn negotiations, there were ongoing debates about the common and differentiated responsibilities for climate change, the "robustness" of existing climate science, and the most equitable solutions moving forward. Several working sessions of the SBSTA ended without countries' consensus, including a session on agriculture and food insecurity and another regarding how to acknowledge the sixth and latest Intergovernmental Panel on Climate Change (IPCC) Assessment Report. 
It's one thing to read about this lack of consensus in an article. It's another thing—and quite distressing—to witness failure to agree firsthand. At side events, we learned about the grave concerns that developing countries have about the historic Loss and Damage Fund agreed to at COP27. Many of these nations suffer from energy poverty and have large national debts. At the conclusion of these meetings in Bonn, there remain outstanding questions about how the commitment to help will be funded and what financing will look like. Will these nations receive loans or insurance policies with requirements, exclusions and contingencies? Or will they receive cash donations without strings attached?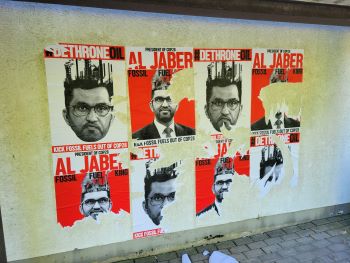 The biggest controversy surrounds the country that will host COP28, the next big climate meeting at the end of this year. Sultan Al Jaber of the United Arab Emirates is the President-Designate for COP28. He is also CEO of the Abu Dhabi National Oil Company.
We know that the burning of fossil fuels is the major contributor to the climate crisis impacting our global health, and many are concerned about the influence of oil and gas companies in these climate negotiations.
Nevertheless, we are heartened to learn that for the first time ever, COP28 will dedicate an entire day to health and will host a climate and health ministerial targeting government leaders. We also know that to make more headway in advance of COP28, the Secretary General of the United Nations Framework Convention on Climate Change (UNFCCC) will host a Climate Ambition Summit. The Summit will focus on acceleration and transparency, bringing together governments from across the world, as well as cities, localities and businesses that have seen and promoted real successes in climate action, to share and scale up their work.  
As noted by the Executive Office of the UN Secretary-General's Climate Action team, "Without unprecedented levels of cooperation we will not succeed. We will succeed only if we work together." We are returning to California with a renewed sense of urgency and look forward to leveraging our Center's research and resources to act on the climate crisis and protect human health.
Arianne and Sapna
---
June 15, 2023
The gender gap in climate finance for developing nations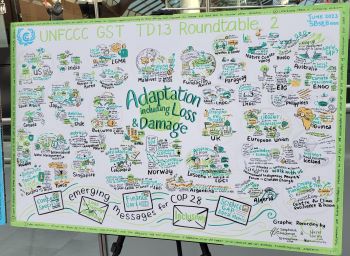 We sat in on an eye-opening session organized by the UNFCC about "Climate Finance for the Needs of Developing Countries." Climate finance is funding to support climate change mitigation and adaptation actions. Climate finance inherently acknowledges the significant variance in countries' contributions to climate change and their capacity to prevent it and cope with its consequences. All week, discussions about the Loss and Damage Fund hinted at this disparity, and this particular session addressed it directly.  
The session brought together leaders representing the Arab, Indian Ocean small islands, Southeast Asian, and Central and Western Africa regions to discuss how they determined their financing needs. Each region described their extensive, thoughtful processes including launching regional workshops, conducting needs assessments, and sharing knowledge and best practices to set priorities and financing levels for their region and country. Many of the priorities these regions have in common also have immense implications for health, including food and water security and nature-based solutions. As the Arab region's representatives pointed out, 13 of the 22 Arab countries lack fresh water and that scarcity is further exacerbated by climate change. 
We also heard riveting negotiations this week on gender finance for climate change. Women play a catalytic role in climate mitigation and adaptation in their businesses, communities and homes. They also are more vulnerable to climate impacts. Yet, women do not have equal access to resources and benefits. During an informal consultation on climate action on agriculture and food security, many delegates pointed out that when crops suffer after climate disasters, women are likely to be more food insecure compared to men, and young girls tend to be married off earlier. 
During the special event on "Supporting Capacity Building on Gender Budgeting," delegates from Fiji and Chile described their developmental and strategic ways of eliminating gender disparities in ownership and access to resources, such as land, credit and technology, to help women grow and decrease their exposure to climatic risk.  We were captivated by these innovative stories from countries on their strategies for gender finance that ensures women have equal access, and gender-responsive budgeting that involves reforms to methods across the whole budget cycle in order to account for gender. As countries find ways to address gender disparities and implement gender-responsive budgeting, health has to be considered as a fundamental outcome.
While official negotiations shared best practices that offered some hope for equity, at side events, we learned that greater representation for women is still needed in climate negotiations. You can follow this conversation led by groups speaking for women from the Middle East and North Africa and elsewhere, with the hashtag #feministclimatejustice on social media. 
Arianne and Sapna
---
June 14, 2023
Taking stock of our inadequate progress on climate goals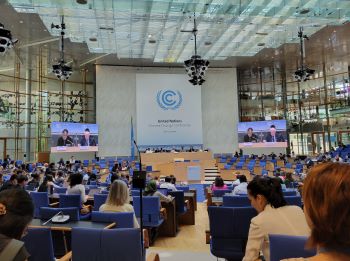 A phrase that's being used a lot at the UN climate meeting in Bonn, Germany is "Global Stocktake." It refers to the first-ever check-in on progress toward the international climate goals that 196 nations agreed to with the 2015 Paris Agreement. The landmark negotiations in Paris brought together almost all of the world's nations in support of a common strategy to cut greenhouse gas emissions and was the most significant climate accord since the Kyoto Protocol. 
The current Global Stocktake will conclude at the next global climate gathering, COP28, "with a consideration of outputs" to inform potential updates to the Paris Agreement. The technical meeting that we are attending in Bonn is assessing the information gathered to date.
So, how is the world doing? During closing remarks at a Technical Dialogue Tuesday, Farhan Akhtar, co-facilitator of the Global Stocktake, stated simply, "We have made significant but inadequate progress." 
Unfortunately, "inadequate" is correct. One of the biggest goals from the Paris Agreement is to limit temperature increases and keep global average temperature gains in tight check.  As we pointed out in our first blog post from this series, our planet is on track to miss the 1.5°C goal in the next 5 years. 
We did our own stocktaking of other sobering information relayed to participants during this week's climate meeting: 
Hunger, now impacting 828 million people globally, is likely to grow dramatically as agriculture is disproportionately impacted by climate change, compared to other sectors. 
Weather events are increasing in severity. Cyclone Freddy from this past spring may have been the longest-lasting cyclone in human history, and it impacted Eastern Africa significantly through flooding and more than 1,400 lives lost. 
Despite the documented health impacts of climate change, from malnutrition to mental health, respiratory and cardiovascular illnesses, health-related issues still receive only a small amount of climate funding. 
The ocean has absorbed 25 percent of carbon dioxide emissions and 90 percent of the heat these emissions generate, but will absorb less according to projections for higher-temperature scenarios. 
What next? Based on the Global Stocktake to date, countries are providing suggestions on how to update the Paris Agreement. At a closing plenary session, the G-77 group currently led by Cuba argued for more funding for climate action and equity in climate mitigation. The G-77 represents developing countries that suffer the climate effects of emissions, which come primarily from developed nations. 
On the other hand, countries like Australia, Canada, and the U.S. made the case that historically, those emissions occurred when there were no known alternatives to fossil fuels or scientific knowledge of climate change. Instead, these industrial nations advocated for frameworks that focus on present and future climate emission scenarios to determine next steps.
Neither of these two perspectives on responsibilities for climate action are new. But there is at least a shared sentiment that each country must take more ambitious action to get back on course to meet the Paris Agreement goals. And, delegates are continuing to assess the information and best practices gathered to recommend next steps. In keeping with action, the UNFCCC Secretary General announced the Climate Ambition Summit in its briefing session today. More on that from us tomorrow.
You can review the latest documents and reports from the Global Stocktake here.
Arianne and Sapna
---
June 13, 2023
Prioritizing nature-based solutions for climate change mitigation and justice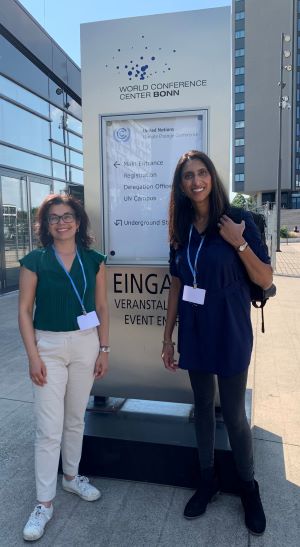 Yesterday during a special meeting here in Bonn, we learned from UN leaders on climate and biological diversity that nature-based solutions—incorporating forests, oceans, ecosystems and water—will be a core focus of COP28, the world's main climate event, later this year. Nature-based solutions offer some of the most critical tools to combat climate change (second only to developments in renewable energy). 
Throughout the day, multiple themes about nature-based solutions were topics of discussion. Some of the key takeaways from the conversations here are:
All aspects of nature, including land, water, nature, climate, and food, are deeply interconnected.
Solutions must be systems-focused, holistic and integrated.
Climate financing for nature must be informed by the voice and participation of indigenous groups, who are known stewards of nature. Financing must be both public and private.
Human rights and justice are at the heart of nature-based solutions. Women face higher risks and greater burdens from climate change. And, 50 percent of the world's population lives in poverty and suffers first—and the worst—from climate change impacts. 
Nature-based solutions include reforestation, regenerative agricultural practices and restoring wetlands. These can make a significant difference in the effects of climate change and improve human welfare: A recent review finds that urban trees reduce harm (such as reduction in heat exposure, ultraviolet radiation), restore capacities (including mental health and clinical outcomes), and build capacities (including birth outcomes and active lifestyles). 
Other studies have shown nature has the power to reduce cardiovascular illness, improve respiratory health, support child behavior development and more. As we listen to presentations and represent UC in conversations here, we keep this question in mind: What should the health sector be doing about nature-based solutions? 
Building the knowledge of health care providers about the positive impact of nature-based solutions on health is crucial. The positive environmental impacts of nature-based solutions have long been recognized, but change has been slow. As the 2020 Lancet Countdown reminds us, engagement from the health sector is beginning to fill a crucial gap in the global response to climate change, just as it did with advancements in sanitation and hygiene and tobacco control. The health sector has a vital role in moving the needle on real change to protect people and the planet.
Arianne and Sapna
---
June 9, 2023
Setting the stage for COP28
With wildfire smoke plumes threatening the health of millions and a recent UN report confirming that our planet will warm 1.5° C above pre-industrial temperatures within the next 5 years, meetings have kicked off in Bonn that will be crucial to setting the stage for a productive COP28, which may be the most significant climate conference since the Paris agreement. We are headed there to understand whether and how impacts on human health and wellbeing are considered – and how international leaders are responding to the news that climate change is accelerating.
In the past, not reaching the 1.5° C warming threshold was an international goal to prevent climate catastrophe. Now, we're seeing the climate disaster we were hoping to avoid unfold, such as in the raging fires in the northeast U.S. and Canada. Warming temperatures have already wreaked havoc on our state of California and our health systems, evident in surging emergency room visits during extreme heat days. At the UC Center for Climate, Health and Equity, we are alarmed by our planet's record-breaking warming, and we are taking actions to educate and equip our communities for this impact through efforts such as our Wildfires & Health Education Hub.
All of this climate news is on everyone's minds as the meeting of the subsidiary bodies kicks off.
These interim meetings of subsidiary bodies are critical for advancing implementation and science on international climate agreements. We are attending and meeting with climate leaders and influencers on the sidelines of critical gatherings like this one to help make sure health and equity are key considerations.
We've already learned that there have been debates over the meeting agenda that reflect ongoing country differences about reducing greenhouse gas emissions. We also know that there will be detailed discussion on how to operationalize the new and historic Loss and Damage Fund, which aims to compensate vulnerable communities and nations for losses occurring from climate change.
We are optimistic for progress in Bonn and a growing consideration of health and equity in these discussions. The world must not lose sight of its ambition – and moral obligation – to ensure a sustainable, healthy, and resilient future for current and future generations, as well as the planet. 
We look forward to sharing more from Bonn in the coming days.
Arianne and Sapna