November 22, 2021
Mitigation efforts to reduce COVID-19 on the ten University of California campuses during the fall of 2020 minimized campus transmission and outbreaks and limited spread to surrounding communities, according to a new study published in PLOS ONE.
Based on recommendations from the UC Systemwide COVID-19 Public Health Workgroup, the University of California system established guidance and protocols to reduce campus infection rates. The result was that a lower proportion of students on UC campuses tested positive for coronavirus than the population in the surrounding communities.
"We now have a data-driven assessment of how effective a multi-layered approach to preventing the spread of COVID-19 can be. We hope that this study will inform leaders in other educational and congregate settings about proven best practices for reducing the risks of this dangerous virus," said Carrie L. Byington, M.D., executive vice president of University of California Health and infectious disease expert. "The outcomes detailed in this study show the power of the expertise across the UC system that came together to make our campuses, students, faculty, staff and communities safer."
A UC system-wide effort
In May 2020, Byington convened several UC health leaders to the UC Health Coordinating Committee. She also created a number of workgroups and other task forces to manage COVID-19's impact on the campuses.
The UC Systemwide COVID-19 Public Health Workgroup, chaired by Bradley H. Pollock, associate dean for Public Health Sciences at UC Davis School of Medicine, collaborated to provide guidance that included a range of recommendations in several broad areas:
Work environment distancing
Use of classrooms and other instructional spaces
Student housing
University common spaces such as libraries, dining facilities, and recreational spaces
Student behavior and responsibility
Mental health and emotional support
From that guidance, UC System leadership installed protocols in key areas: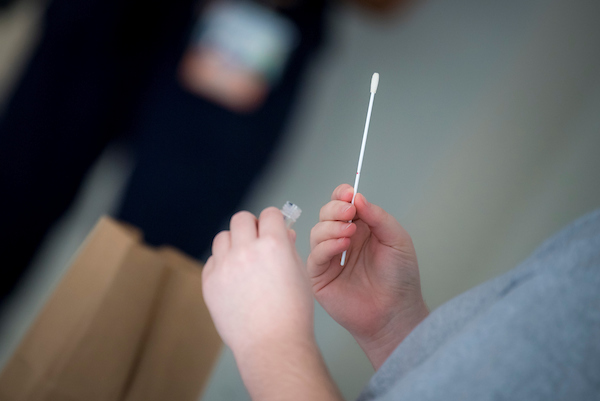 The arrival of students living on campus
Non-pharmaceutical interventions
Daily symptom monitoring
Symptomatic testing
Asymptomatic surveillance testing
Isolation and quarantine protocols
Student ambassador programs for health education
Campus health and safety pledges
Lowering on-campus density and transitioning to predominantly remote instruction
"Our strategy focused on providing a multi-layered preventive measure approach to make the UC campuses as safe as possible," explained Pollock. "During a pandemic you do everything all at once to save people. Based on the information we collected from all of the UC campuses, the aggregate impact of these layered preventive measures was quite successful."
UC efforts limited COVID-19 spread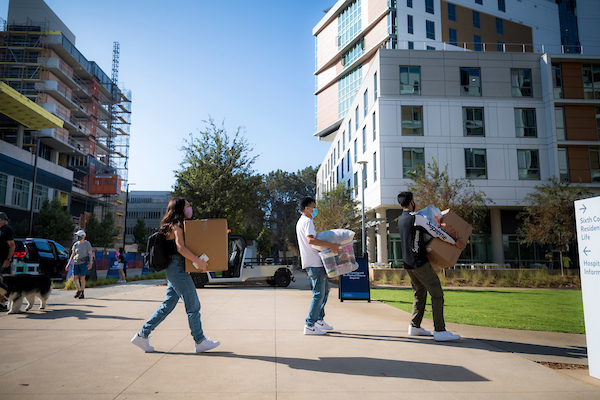 The proportion of each UC campus' student populations that tested positive for COVID-19 during the fall term was calculated and compared to the percentage of young adults (ages 20 to 29 years) testing positive in the county in which the campus was located.
In fall 2020, total UC System enrollment was 285,862 students. UC-wide testing efforts resulted in 521,449 tests during the term, including symptomatic testing with the return of results within 24 hours. Case positivity was lower than or equal to that for the 20- to 29-year-old population for the vast majority of campuses.
The percentage of people 20 to 29 years old in counties with UC campuses that tested positive for COVID-19 during the fall term ranged from 1.6% to 5.6%, while the percentage of students living on campus that tested positive for COVID-19 during this period ranged from 1.2% to 5.2% and was similar for students living off campus.
"This analysis suggests that students living on or near UC campuses were usually at lower risk than young adults in the surrounding population and it is unlikely students served as a major driver of community transmission," said Pollock. "These results also correspond with on-campus modeling work at other universities, which shows a layered approach to public health efforts at an entire university system can limit the spread of COVID-19."
UC campuses go above and beyond
Some UC campuses created additional programs in collaboration with local cities and counties to help lower test positivity in the local communities. UC Davis implemented a comprehensive community-wide COVID-19 control program called Healthy Davis Together. The program involved a partnership between the City of Davis and the university to prevent the spread of COVID-19 and facilitate a coordinated and gradual return to regular city activities and reintegration of UC Davis students back into the Davis community.
The collaboration provided the Davis community with:
COVID-19 updates and information on how to prevent spread
Free COVID-19 testing
Free personal protective equipment
Community-supported quarantine and isolation services for those needing safe shelter and assistance
Incentives that reward healthy practices for UC Davis students, local businesses, and community members
Environmental monitoring that includes city-wide wastewater testing and piloting indoor air filter testing in schools to serve as an early warning system
"What does it mean to keep your campus well when everyone else is getting sick around you? The university is part of the community," said Pollock.
Moving forward, the study indicates continued multi-layered mitigation efforts and COVID-19 vaccination mandates is expected to make fall 2021 much safer than fall 2020 and allow for increased density on campuses.
"I believe our layered mitigation approach, informed by public health science, likely minimized campus transmission and outbreaks," said Pollock. "These strategies, if widely deployed, should alleviate local concerns about college students returning to communities and spreading COVID-19."